We produce energy modules according to your designs and wishes
The RACELL unique technologies make it possible to produce a wide range of unique module types
Our focus is to provide energy modules that fulfil many functions, all-in-one. We give you aesthetic options, we give a module that can be an actual building element, and we give you lots of free renewable energy for electricity, heating, cooling, and hot water.
The RACELL modules have more features than any other solar or energy modules on the market:
Ultra large modules
Triple energy
Energy production at night
Insulation,
Building integration,
Water-tight roof,
Water-tight façade,
Light weight self-bearing modules,
Architectural and aesthetic features
Cells with built-in LED screen.
Our high-quality modules are manufactured so they live up to all international  quality and safety certification standards. Because our modules are used as actual building elements, they have a longer lifetime and warranties, exceeding 50 years. 
This type of module is designed to produce electricity from the solar cells incapsulated in the module. Patented multiple by-pass-diodes integrated in the module ensure a minimum of power loss due to shading and dirt on parts of the module.
PVT or Triple Energy modules
This type of module is designed to produce electricity from solar cells and to produce heating and cooling from the thermal absorber integrated in the module. See illustration below.
All in one multi-functional Panels
The module is composed of different optional layers and each layer fulfils one or more functions as shown. The module can be very thin 4 – 20 mm, except for the optional insulation layer. See illustration below.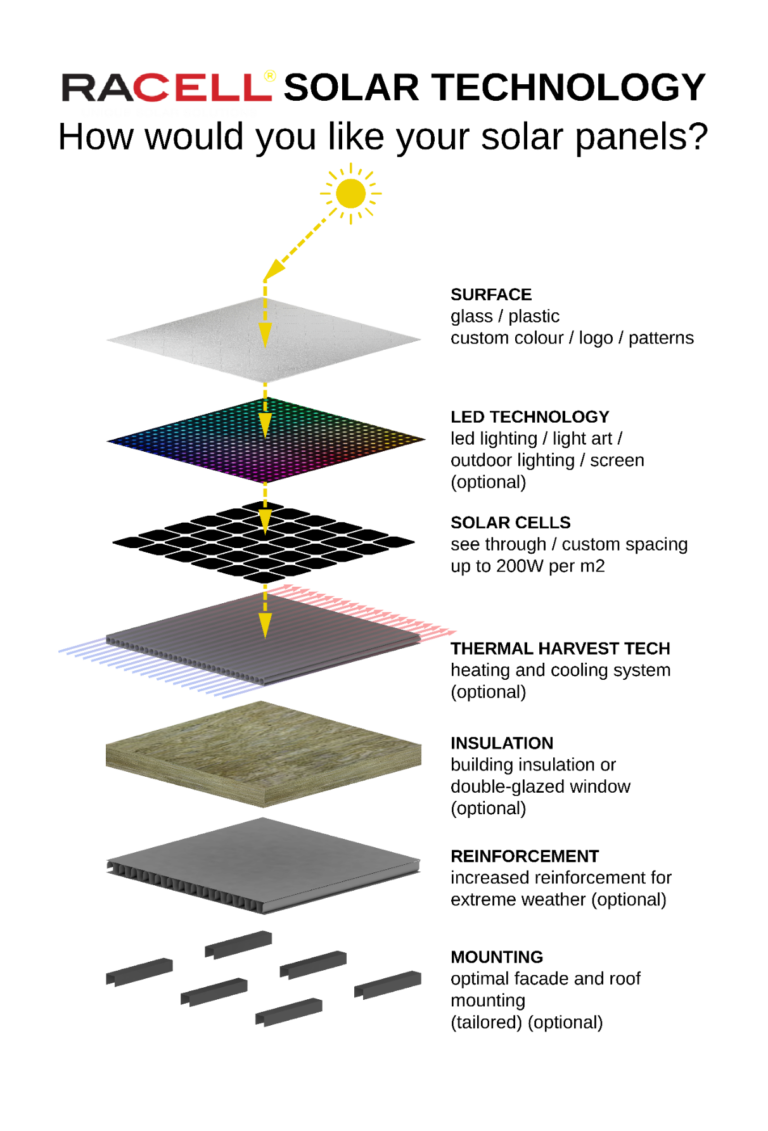 Examples of different types of front layer are shown here, but the possibilities are endless as long as the light can get through the front cover. These are essential to meet the various demands of building integration.
PV STARLIGHT – TURN NOTHING INTO SHINING SOMETHING
Light up the architecture, your sculptures or art and create sustainable, cost effective, functional and aesthetic works and spaces. By collected power during the day our invisible TripleEnergy solution can become illuminated at night. The patented PV starlight replaces the dark facades with light at night. A perfect creative, adaptable and suited solution for the urban living.