browse through our range of
building integrated solutions
Public swimming pools, Roskilde Badene, Denmark
ARCHITECT: CREO ARKITEKTER A/S
LOCATION: ROSKILDE, DENMARK
BUILDING OWNER: ROSKILDE KOMMUNE
ENGINEERS: COWI
YEAR: 2020-2021
PV MANUFACTURER: RACELL
In connection with the renovation and expansion of the public swimming pools in Roskilde, Racell has produced and delivered façade modules that meet the aesthetic demands of building integration notably with respect to colour. Racell has fully lived up to the expectations of the architects by supplying more than sixty different module sizes, covering more than 650 m2 of the façade. Modules range in height from 2.5 to 3.5 metres. The 25,000 crystalline solar cells present a variety of terracotta colours.    
University building NMBU, Oslo, Norway - Norwegian University of Life Sciences
ARCHITECT: FABEL ARKITEKTER AS
LOCATION: OSLO, NORWAY
BUILDING OWNER: NORGES MILJØ- OG BIOVITENSKAPELIGE UNIVERSITET 
YEAR: 2018/2019
PV MANUFACTURER: RACELL
In connection with the expansion of the NMBU campus in Oslo, Racell produced and delivered ultra large, semi-transparent façade modules that meet the aesthetic demands of building integration. The façade modules are multifunctional triple-glazed insulated windows. Furthermore, Racell produced and delivered ultra large roof modules, installed to cope with strong wind and snow loads. The width and number of modules for the façade and on the roof are the same for aesthetic reasons.
ARCHITECT: ENERHAUGEN ARKITEKTKONTOR A/S
LOCATION: OSLO, NORWAY
BUILDING OWNER: UNDERVISNINGSBYGG
YEAR: 2018
PV MANUFACTURER: RACELL
The secondary school building at Nordseter School in Oslo has been upgraded from a tired 60s building to a modern and environmentally friendly school building that both contractor, client and school students can be proud of.
The building is equipped with 625 square meters of solar panels on the roof and a total of 374 square meters of vertical solar cells on two of the facades. The solar panels will cover approximately 25 percent of the school building's energy needs.
– Byggeindustrien – bygg.no
ARCHITECT: ARKITEMA
LOCATION: GLADSAXE, COPENHAGEN
BUILDING OWNER: REALDANIA BYG
ENGINEERS: MOE
YEAR: 2013-2015
PV MANUFACTURER: RACELL
BOLIG+is Denmark's first active energy-producing, energy-neutral multi-story residential property with focus on healthy homes, optimal indoor climate and quality of life – whilst remaining an affordable construction option.
The building is part of Realdania By & Byg's portfolio of innovative new builds.
The BOLIG+ concept came about in connection with EnergyCamp05 in 2005, when a number of representatives from the construction sector were given 36 hours to come up with a solution to the challenge: "How can we develop energy efficient homes for the expanding global population?"
– Realdania
AARHUS CITY TOWER – COMWELL AARHUS DENMARK
ARCHITECT: ARKITEMA
LOCATION: AARHUS, DENMARK
BUILDING OWNER: HANS LORENZEN
ENGINEERS: MOE
YEAR: 2012-2014
PV MANUFACTURER: RACELL
"Højhuset er en lavenergibygning klasse 2015, der integrerer et solcelleanlæg på hele sydfacadens brystningspartier. Facadens solceller er elegant integreret i facade-udtrykket og har et lavt materiale- og energiforbrug ved fremstillingen."
– Arkitema
PVT roof installation at Trigeparken, Aarhus, Denmark.
EU-PROJECT: READY
LOCATION: AARHUS, DENMARK
BUILDING OWNER: Ringgården
ENGINEERS: COWI
YEAR: 2020
PVT MANUFACTURER: RACELL
In connection with the renovation of the apartment buildings at Trigeparken, the EU-supported climate project READY enabled the installation of PVT modules on the roofs. These Triple Energy modules (PVT) provide electricity, heating and cooling. In addition to the aesthetic qualities, the modules have the highest efficiency when it comes to energy harvesting, including solar and thermal energy, plus insulating properties, heating and cooling. The modules can harvest up to 90% of the energy of the radiation from the sun compared to the 15-20% obtained by traditional PV installations.
See also our video on Trigeparken
Residential system, Lokes Plads, Ølstykke, Denmark
ARCHITECT: VANDKUNSTEN ARCHITECTS
LOCATION: ØLSTYKKE, DENMARK
BUILDING OWNER: KAB
YEAR: 2018
PVT MANUFACTURER: RACELL
This residential energy system has exceptional advantages: it produces heat day and night and all year round, even during the winter months. The electrical energy from the solar cells is only produced when there is light, but thanks to the built-in energy absorber of the PVT module, the module can harvest 3-5 times more energy than a standard solar cell module. It is therefore primarily the fluid driven energy absorber that makes it possible to make a building in Scandinavia with a relatively small roof area self-sufficient in heating, hot water, and electricity.
The high level of energy harvest is due to the construction of the PVT module. At the top, the high-efficiency cells provide a module efficiency of typically 20% and the energy absorber has an efficiency of 80%. The energy absorber functions as a solar collector when there is light outside and also as an absorber of energy when it is dark and cold outside. In principle, this fluid-driven absorber functions in the same way as geothermal energy.
Sports facility - Stenløse klubhus, Denmark
ARCHITECT: GABRIELE JEROSINE / MAP ARCHITECTS
LOCATION: EGEDAL, DENMARK
YEAR: 2017
PVT MANUFACTURER: RACELL
On this building the modules make up the roof, which we refer to as the iTM system, and which is a self-sufficient energy concept providing electricity, heating and cooling. As a result of the development of the iTM energy roof, a press statement was released.

Når fodboldspillerne i klubhuset ved stadion i Egedal Kommune tænder for det varme vand efter en god gang træning eller damen i cafeteriaet skruer op for frituren – så sker det ved hjælp af klubhusets nye tag. Det er nemlig energiproducerende – det kan levere el, varme, varmt vand og køling – og faktisk til overflod.
– Building Supply DK
Community Centre - Kvartershuset Borgbjergvej, Copenhagen, Denmark
ARCHITECT: BOX 25 ARKITEKTER
LOCATION: COPENHAGEN, DENMARK
BUILDING OWNER: KAB
YEAR: 2014
PV MANUFACTURER: RACELL
The community Centre in Copenhagen embraces proud traditions in the area of political engagement and solidarity and houses sports clubs and other types of unions, catering for the spare time activities of the local community. In connection with a renovation of the building, Racell produced and installed semi-transparent large-scale PV modules as Velux triple-glazed insulated skylights on the south side of the roof, whereas on the north side of the roof, Velux skylights without solar cells were installed, opposite the modules on the south side, thereby allowing the gym to get an influx of daylight as opposed to electric lights used previously.  
Egeris Sports Centre, Skive, Denmark
LOCATION: SKIVE DENMARK
BUILDING OWNER: SKIVE KOMMUNE
YEAR: 2013
PVT MANUFACTURER: RACELL
The Egeris sports centre houses locker rooms, offices, meeting rooms, depots, and a canteen.
To cover the energy needs of the sports centre, a system of 42 PVT modules, 7 m2 each, was installed on the roof facing south. The electrical energy produced by the modules runs all the facilities in the building and the thermal energy provides domestic hot water for the many showers provided for the sports athletes.
Each module has 228 cells and produces electrical power of 1025 Wp at STC. The module has no Junction boxes, but instead 456 bypass diodes are integrated directly with the cells in each module, thus minimising hotspots and shading effects. The aluminium liquid absorber part of the module is able to deliver 2000 W of thermal power at peak condition. The thermal absorbers are connected in parallel, thus minimizing temperature gradients across the series connected solar cells.
VELUX & DANFOSS – SOLAR PRISM
LOCATION: ALBERTSLUND, DENMARK
PARTNERS: VELUX & DANFOSS
YEAR: 2012
PV MANUFACTURER: RACELL
RACELL participated in the project Solar Prism which won the DI Byg Award in 2012.
For information about the project, contact us.
Solar Prism – som er navnet på den nye energiløsning fra Danfoss og VELUX Gruppen – består af en 'kasse', der installeres på husenes flade tag. Indeni rummer kassen indeklima- og energikomponenter som varmepumpe, tank til lagring af varmt vand, inverter til omformning af den producerede solstrøm til vekselstrøm samt ventilationsanlæg med varmegenindvinding, der ventilerer mekanisk og genbruger varmen i luften. Alt dette leveres af Danfoss, mens VELUX står bag optimeringen af arkitekturen i den præfabrikerede sammenbygning bestående af blandt andet ovenlysvinduer, solafskærmning og solceller.
– Velux, Presse
DR BYEN COPENHAGEN DENMARK
ARCHITECT: DISSING & WEITLING
LOCATION: COPENHAGEN
BUILDING OWNER: NATIONAL DANISH RADIO AND TELEVISION
ENGINEERS: COWI
YEAR: 2006-2007
PV MANUFACTURER: RACELL
The Danish broadcasting house, designed by Dissing & Weitling, was awarded the Solar Prize by the City of Copenhagen in 2006.
Sustainable solutions are integrated throughout in the overall design concept, demonstrating how sustainable and innovative technical solutions can contribute in developing an architectonic idiom.
Daylight is drawn into the central rooms of the building through the outer walls and the roof, which reduces the need for artificial lightning while at the same time emphasizing the special functions of the rooms. The building has integrated groundwater cooling, a double facade system, natural ventilation and solar cells in the roof construction, which was developed with the support of EU.
– Dissing & Weitling
BUILDING: BRUNDTLAND CENTER (GRO HARLEM BRUNDTLAND)
ARCHITECT: KHR ARCHITECTURE
LOCATION: TOFTLUND, DENMARK
YEAR: 1996
PV MANUFACTURER: RACELL
PRICE WINNING BRUNDTLAND CENTER
This Price winning system was the first European BIPV system with modules forming the double glass roof. Both cells and modules were produced by RACELL. Inside the hall is the racing car that won the cross Australian PV race with light weight modules from RACELL.
Centret skulle demonstrere effektiv udnyttelse af ressourcerne. Godt udnyttet dagslys reducerer elforbruget til belysning med hele 60 procent. Og højisolerede ruder, behovsstyret ventilation og udnyttelse af passiv solvarme nedsætter varmebehovet til 50 procent i forhold til datidens traditionelle byggeri. Ydermere producerer henved 200 kvadratmeter solcellepaneler årligt 11.000 kWh.
– Brundtland Business Center
SOLAR ENERGY FOR WATER SUPPLY
LOCATIONS: USA, NAMIBIA, MOZAMBIQUE, SOUTH AFRICA
YEAR: 1992-2012
PV: RACELL / GRUNDFOS
In 2007 RACELL developed special high voltage modules for making the Grundfos pumps increase their efficiency by 30%. Several thousands of systems have been installed in Africa and Asia for drinking water and in USA, Europe and Australia for water to cattle and irrigation systems.
EXTREME CLIMATE SOLUTIONS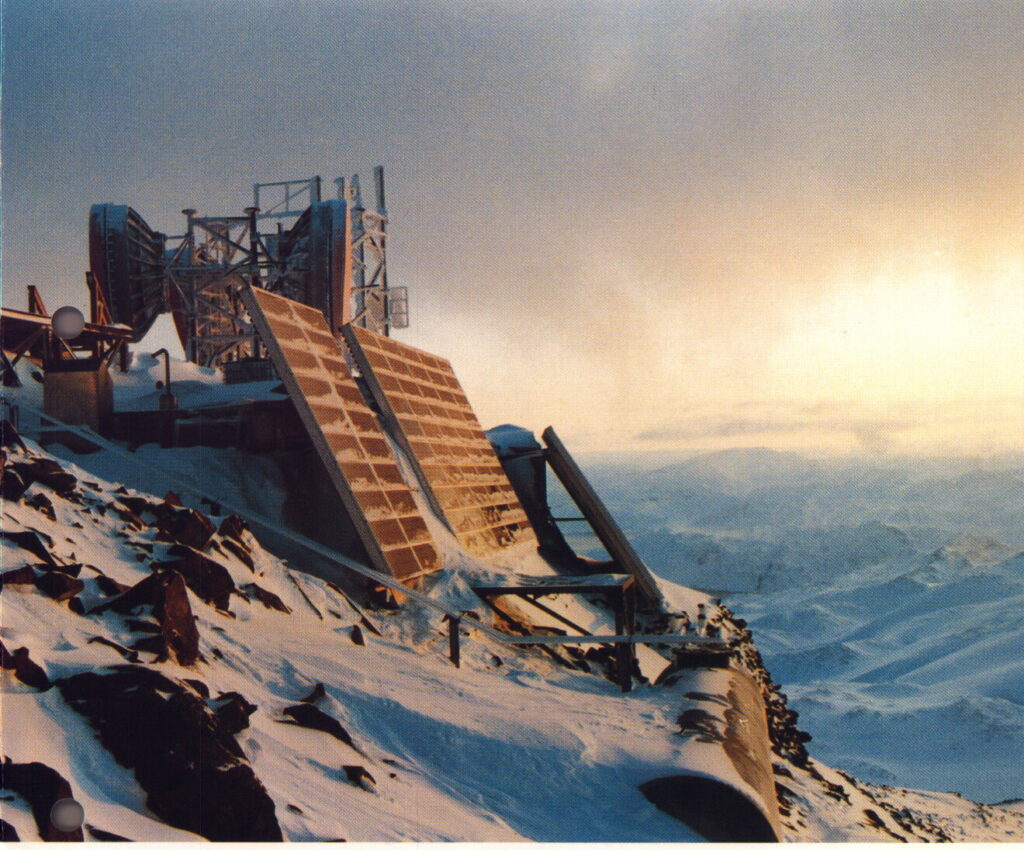 LOCATION: TELECOMMUNICATION IN GREENLAND
YEAR: 1992
PV MANUFACTURER: RACELL
Installed on mountaintops all across Greenland for telecommunication lines operated by Tele Greenland. Furthermore, in 1993 Racell provided telecom stations in the middle of the jungle of Ecuador and in 2004 for the mountain tops across Uganda.
VALBY GAVL COPENHAGEN DENMARK
ARTIST & DESIGNER: ANITA JØRGENSEN
BUILDING OWNER: MUNICIPALITY OF VALBY
YEAR: 2009
ENGINEERS: KUBEN & CENERGIA
PV MANUFACTURER: RACELL
"Gavlkunstværket, der er udført i 2009 og bærer navnet Valbygavlen, er verdens første soldrevne kunstværk. Solcelleanlægget kan producere strøm nok til, hvad der svarer til tre husstandes strømforbrug."
– Valby Lokaludvalg
SOLAR PANEL FACTORY GREECE
ARCHITECT: HENNING LARSEN
BUILDING OWNER: EXCEL MAK METAL
YEAR: 2008-2009
PV PRODUCTION CAPACITY: 130 MW/YR
ENGINEERS: RACELL
TURNKEY BUILDER: RACELL
MANUFACTURER OF EQUIPMENT: RACELL
"Like other Henning Larsen projects, such as the Campus Roskilde and EnergyFlex house, the 100,000 square meter facility rises to the challenge by marrying passive design and modern technology [RACELL] to create a factory that is almost entirely self-sufficient."
– inhabit.com
Interested in solar solutions?
Then contact us and we will find the right solar solution for you